Congratulations on an amazing wedding, now maybe you're thinking if you should sell your wedding dress, but aren't sure where to start. Maybe other people have inspired you to sell your wedding dress but you don't know where the best place to sell, or are you curious and want to know what you dress is worth? No matter what your question might be, we have the answer for you!
Figuring out where to sell your wedding dress can be difficult. You have already made the tough decision to sell your beloved dress and allow someone else to look gorgeous, but where can you sell it? You want to be sure it goes to a loving bride, but that you are also getting a fair price for it. And with so many stores out there claiming to offer you the best price, you can quickly find yourself stressed and overwhelmed, unsure where to turn or who to trust.
There's a great market for second hand wedding dresses in the UK and USA – it's an environmentally-friendly and budget-savvy way to manage a key part of your wedding, so here's our list of the best places to sell your wedding dress in the UK and all you need to know about them.
Where To Sell Your Wedding Dress Online
Let's dive straight into today's article! Below we have a list of the best online websites to sell your wedding dress in the UK. Check them out now to see which is the best fit for you. When selling your wedding dress, be sure to think long and hard about your decision and make sure that you have all the information such as sizing and measurements that you need to provide the seller with.
You will also want to consider any commission fees you might need to pay, whether you need to take your own photographs, and any damage you need to make potential buyers aware of!
Bride2Bride.co.uk
Find out more at bride2bride.co.uk
First up, we have Bride2Bride, a brilliant place to sell your wedding dress! This UK-based site is super easy to use, whether you are a bride or a business and you can sell your wedding dress in three easy steps, so what's not to love?
Simply list your dress with some photos, a description, and a price. There is a listing fee, but it is the cheapest we have found. Plus, it will hardly be a dent in the price of your wedding dress, so you probably won't notice it.
Check the value of your wedding dress with the estimator then, once you have listed your dress you can then chat with buyers using Bride2bride's secure messaging chat. This is a fantastic way to provide them with more information, such as detailing, any damage, or the measurements. Once you have an interested buyer, the payment takes place through a secure seller protection system like Paypal. In no time at all, you will have sold your wedding dress.
And if you are a business, you can sell your dresses there too, with annual or monthly subscriptions. Again, these are super affordable, and the steps to do so are easy to follow.
There is no better option in our opinion!
eBay
Find out more at ebay.co.uk
Auction site eBay has been around for years, and it is a fine option for you to sell your wedding dress. It's a well known site, especially with people after a preloved option, so you can expect a good amount of traffic. There are lots of items added daily to eBay, so it can be a little overwhelming, but it's worth posting the listing anyway.
It's all about timing when listing with eBay. Items listed on a Sunday afternoon (with an auction time of seven days) will sell better and for a higher price than those listed throughout the week. You can also set reserve prices and offer a buy-it-now option where potential buyers can make you an offer. eBay will also relist the dress for free for you, so you don't need to worry about that!
You can pay for listings, but the free listing option is great! eBay does take 10% of the final price though, so make sure you consider this before deciding on using it to sell your wedding dress!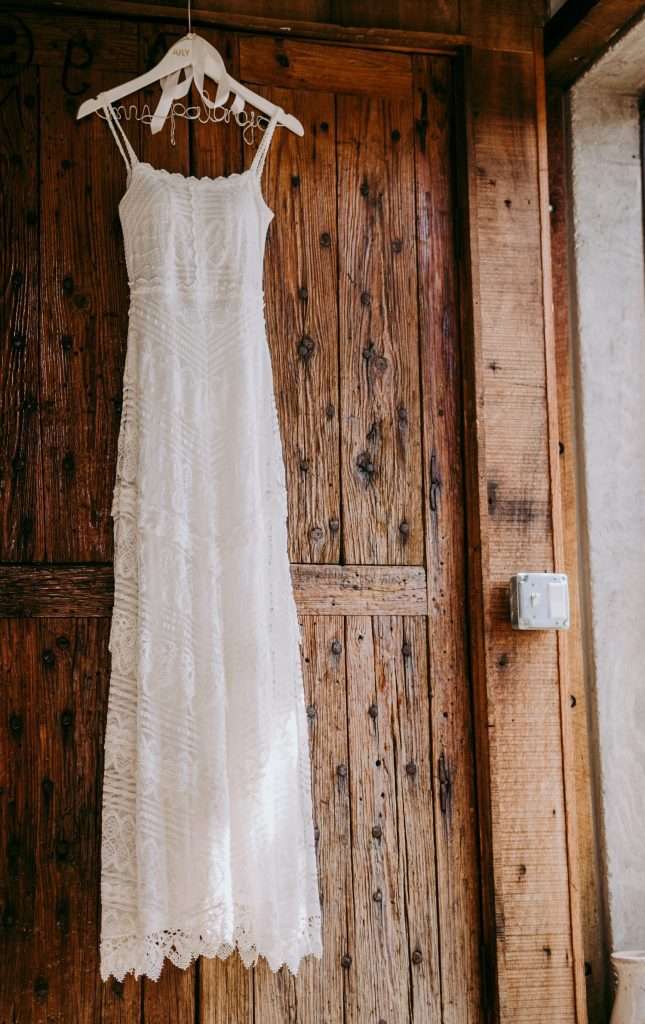 StillWhite
Find out more at stillwhite.co.uk
Next, we have Still White, a commission-free site where you can sell your wedding dress online! Still White is the largest wedding dress-selling website in the UK, so you can be sure there will be a large audience to sell your dress to! The site is also super easy to navigate, so the whole process should be quick and easy!
Despite being commission free, there is a payment required. For a standard listing, it is pretty affordable, and then you have the option of paying an additional £10 for a premium listing. A premium listing allows you to upload a video and eight photos of the dress, allowing you to show just how beautiful it is! Your dress will also be featured on the homepage, attracting plenty of attention towards it!
Compared to other wedding dress selling websites, the fees are higher than the competitors but quite reasonable, especially as you could sell your dress for a couple of hundred pounds. Before listing your dress, we recommend that you look at other dresses on the site and their price to get an idea of how to best market your dress.
Poshmark
Find out more at poshmark.com
Poshmark is another great option and the site allows you to list and sell your wedding dress, but you can also sell other designer accessories and clothing. If you are looking to also sell your wedding shoes and other accessories, then this is a great one-stop shop to do so.
You can also find a bargain yourself if you are looking for some new designer clothing or accessories to purchase.
Poshmark takes a 20% commission from the items you sell, so make sure you consider this when selecting the price of your wedding dress. After all, you want to make sure you are making some money from the sale!
Despite the commission fee, there are no listing fees like other wedding dress-selling websites. It is also incredibly easy for buyers and sellers to use, so you don't need to worry about people not seeing your dress.
Final Thoughts
And there you have it, a list of the best places you can sell your wedding dress in the UK! Although all options listed are fantastic, we think Bride2Bride is the best; there's no commission to pay, it has the lowest listing fees and is super easy to use, and is suitable for brides and businesses.
Why not list your dress today and see the offers roll in?