Weddings are always an exciting milestone to enjoy in life- and in many cases, the excitement will start long before the big day, and usually with your engagement.
The excitement also extends beyond the happy couple; if you know that a loved one is preparing for their wedding, it is only natural that you will feel their excitement and joy as if it were your own.
Sending an engagement card is a great way to show the happy couple that you are thinking of them, but knowing just what to say can be a challenge – especially if this is the first time that you have had a chance to send such a card!
Fortunately for you, we have put together the ultimate guide to tell you just what to include in your engagement card and feel a part of the happy occasion.
Why Should You Send An Engagement Card?
The act of sending an engagement card is a nice gesture to let the happy couple know how much you care about them and want to share in their happiness. It's also a great opportunity to express your feelings towards them and wish them all the best in their upcoming marriage.
In many cases, the act of sending an engagement card is also simply good manners – this is something that people do when they are excited or happy, so why not make use of this opportunity to show your love for the happy couple?
What Should I Write In An Engagement Card?
​An engagement card is a chance to show your love, excitement, and happiness for the new couple, and what you choose to write is ultimately personal. To help, here are some inspirational tips to help you get started!
Congratulations
Perhaps unsurprisingly, congratulations is the most common thing to write on an engagement card, but there are so many variations of this phrase that you could use instead.
For example, "Congratulations on your engagement" or "I am very excited for you both" would work well too.
Best Wishes
Another popular option is to write "best wishes" on your engagement card. This is a simple yet effective way to show your support for the happy couple and wish them luck in their future together.
Send Your Compliments
If you really want to go above and beyond, then you should consider writing a few lines of compliments about the happy couple.
These can range from things like "You two look beautiful together" to more specific comments referring to your relationship with the couple, or specific compliments about one or either of the pair.
A Funny Story
Sometimes, the best way to show your appreciation for someone is to tell a funny story about them.
If you know a joke that makes the happy couple laugh, then you could definitely include this in your engagement card.
This can be a great way to add a really personal touch to your card and let the couple know that you love and appreciate them, as well as treasure the memories that you all share together.
A Toast
Toasts are another great way to show your appreciation and celebrate the happy couple – and there is no reason why you cannot include this written in the engagement card, rather than delivered as a verbal speech!
A toast is basically a short speech where you thank the happy couple for being a part of your life, and wish them all the luck in their future together; this is a lovely message to offer a newly engaged couple.
Significant Quotes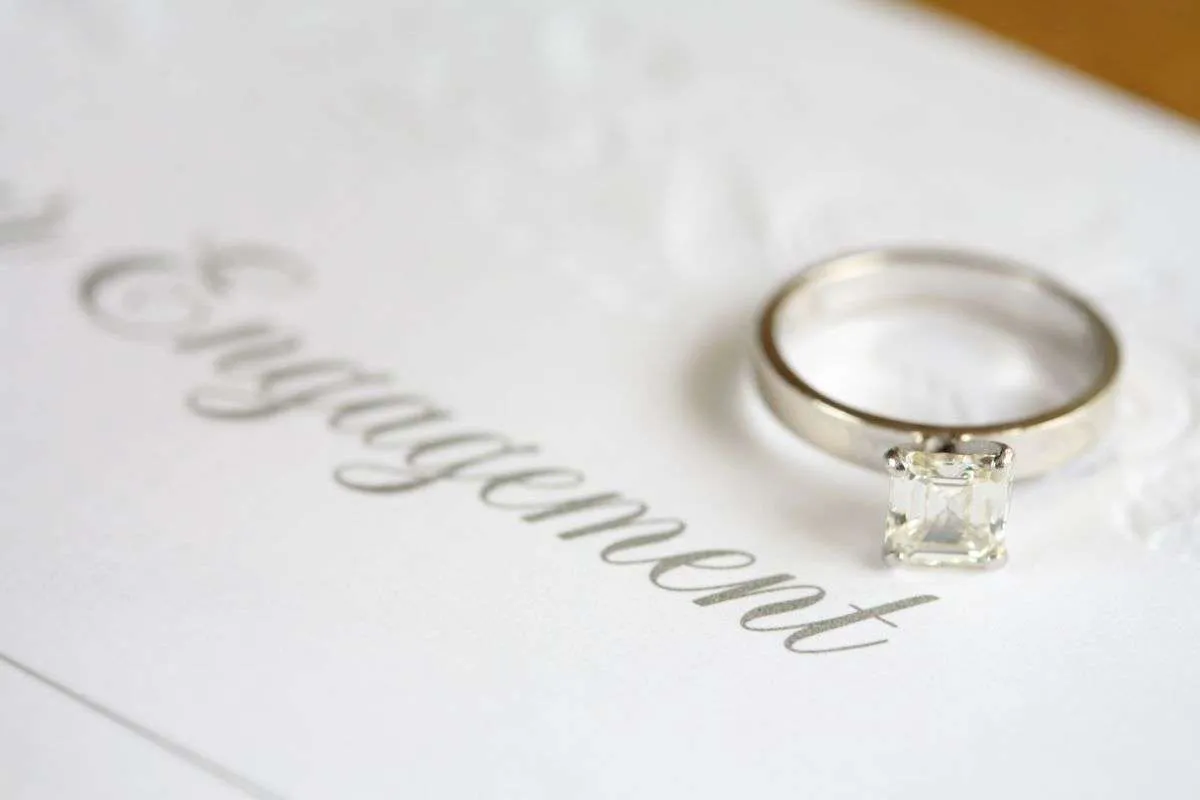 There are plenty of quotes out there that have been uttered by any number of famous people over the years, and if you think any of these sound particularly appropriate, then you could certainly include them in your engagement card. Some examples include:
"Love is patient, love is kind." (1 Corinthians 13:4)
"Marriage is a partnership between equals." (Henry David Thoreau)
"The only true wisdom is kindness." (Lao Tzu)
"When you're in love, time stops." (Unknown)
It can also be a great idea to include a quote that you know has particular value and meaning to the bride or groom, or to the couple as a pair – this offers a personal touch and shows that you have really given a lot of thought to the contents of the card that you are sending.
This small touch is likely to mean an awful lot to the recipients during their happy time.
Tips And Advice From Your Own Marriage Or Relationship
Another nice way to add something unique to an engagement card is to reflect on the tips, advice, and stories that you wish someone had given you on your wedding day.
It may not seem like much, but it will make your card extra special and memorable to the recipient and creates a real bond between the two of you.
This can be particularly special if you have a parent or mentor-type relationship with the couple, as it allows you to pass on your wisdom.
An Inspiring Quote
Inspiration is always a wonderful thing to give someone, and you can include this in your engagement card.
There are so many inspiring quotes out there, from famous writers such as Maya Angelou to inspirational speakers to motivational authors such as Dale Carnegie.
Whatever quote you choose, it should be one that inspires the couple and gives hope for the future.
Best Wishes For The Future
Finally, it's always nice to end your engagement card with something positive and encouraging.
You could say "May you both find happiness together", "Enjoy every moment of your new adventure", or even "Good Luck!" – whatever works for you and your style.
This shows that you have every faith in the happy couple and that you have a strong belief that their love is built to last and stand the test of time.
Final Thoughts
Ultimately, what you choose to write in an engagement card is a personal choice, and should reflect the relationship that you have with the happy couple, and wish them all the best for the future.