Whatever you do when planning, don't forget about your cake! Of course, there are a few smaller details when planning a wedding that if you forget, will not ruin the big day, however this is definitely not the case with the wedding cake which is a must for every new couple.
The cutting of the cake between the bride and groom symbolizes prosperity and good luck in the marriage and while a lot of us look forward to that moment where we can tuck into the cake, many creations can be a little too over the top and can cost you so much more money and time than you originally intended.
It doesn't have to be this way however, there are some simple and easy ways you can spruce up a wedding cake so that it isn't trying too hard to be noticed but is still beautiful to look at as it blends with the themes of the wedding.
Here are a few simple wedding cake designs that are definitely worth considering.
1) Floral-Painted Cake
A classic but for very good reason, floral illustrations surrounding a cake instantly make it more elegant and vibrant to look at, giving it that romantic feeling without even trying.
The beauty of these types of cakes is you can essentially make the actual base of the cake as big or small as you like and by simply adding a few floral decors to fit the size, it immediately adds a delicate feminine touch to a scrumptious cake.
2) Blue Wedding Cake
The white wedding cakes seem to be everywhere these days and while they definitely don't look bad, adding a touch of colour goes a long way in enhancing the appearance and really making a statement.
This is certainly the case with blue fondant wedding cakes where you can easily adjust the colour to your preference and the overall theme of the wedding.
Whether you want a soft pastel blue or a bit of a darker tone that is a little more striking and attention grabbing, this is an easy cake because you only need to add a few colourful extra additions to the beautiful colour to finish it off.
3) Metallic Wedding cake
These shiny cakes have been growing in popularity within weddings over recent years, and when seeing how minimalist but still beautiful they are, it's not very hard to see why.
Making the cake from edible, metallic sequins gives a creative and couture texture to the design which is at once modern but also romantic, especially since it allows the various colours to stand out so much more with a nice glossiness.
Pink is the colour that really shines in these types of cakes, so we would recommend either making each square of the cake pink or mix-matching it with some other bright colours and some extra decorations and patterns to have a cake that is both beautiful to look at and easy to cut into.
4) Gold Dipped Cake
Because only part of this wedding cake is covered with a sheen gold layer, it doesn't make this cake stand out too much and as if you've tried to go too far with proving how classy and expensive the cake is.
Instead, the subtle layering of molten yellow gold still grabs peoples attention but is much more creative and delicate without being too over the top.
A huge part of what makes this type of cake so great and why it has recently surged in popularity is the sheer amount of customisation you get, whether it's a few gold strips or just a gold circular pattern around the bottom of the cake, the choices are endless.
5) Marble Wedding Cake
Marble wedding cakes are not only easy to put together, they also are great for adding to the aesthetic and themes of the wedding, especially with their modern and tasteful design which will be a welcome addition to any wedding ceremony.
Decorate these lovely and elegant cakes with a few flowers or even floral patterns to give it that extra touch of elegance that will have your guests turning their heads as soon as they walk past it.
6) Geode Wedding Cake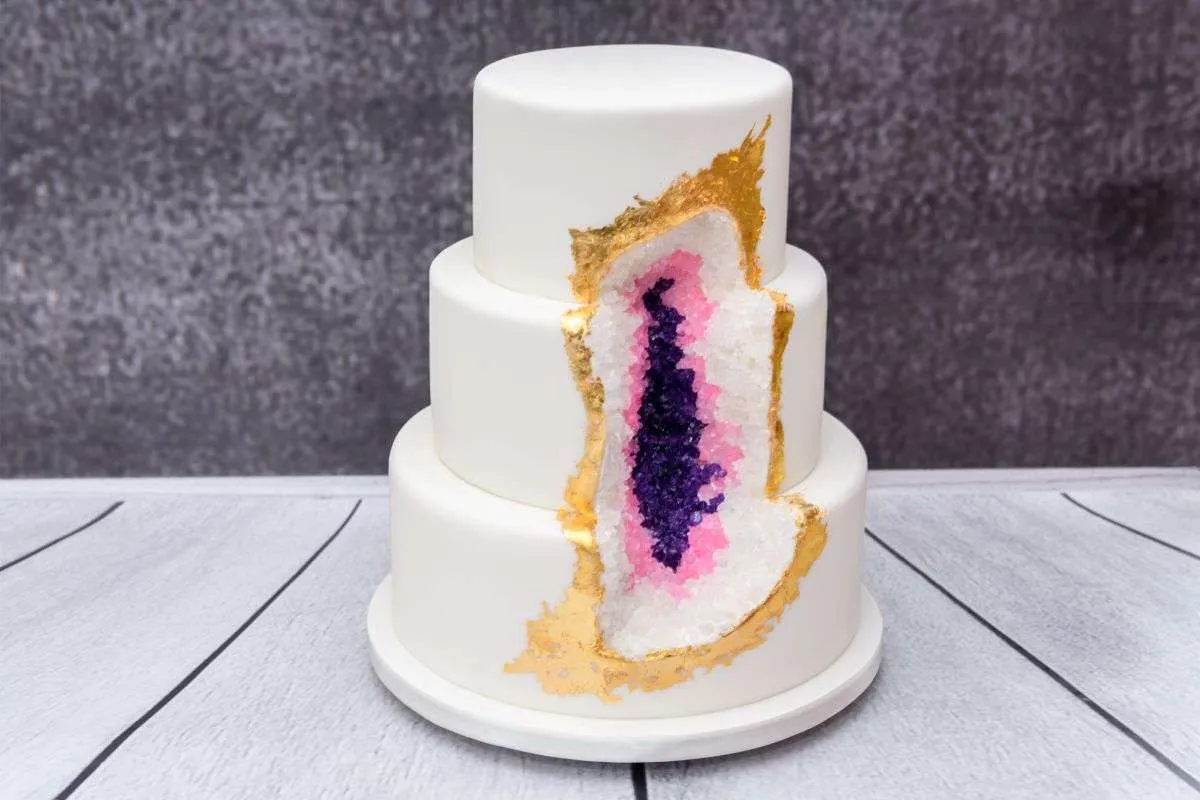 If you've never had the pleasure of tasting or seeing a geode cake, then you are missing out on a hidden gem when it comes to wedding cakes that oozes style but also tastes delicious.
Geode cakes are designed in a way to mimic the famous natural formation of rock and precious and semi-precious stones which gives it a magical and incredibly unique design that is unlike anything else.
They are typically made with rock candy giving them a sweet and delicious taste that can be made to accommodate any size or colour preferences.
7) Bougainvillea Wedding Cake
When planning the theme of a wedding, a popular go to and a clear representation of passion and beauty is the deep and rich rose colour of bougainvillea, and what better way to compliment this than adding some bougainvillea flowers and colour to your wedding cake.
Even if your wedding has a slightly different colour scheme and theme in mind, adding this rich and symbolic colour to your cake can only make it all the more romantic and is an easy way to keep a cake from ever looking stale.
8) Hand Painted Wedding Cakes
Hand painted wedding cakes are not only incredibly easy to prepare to the point where you could even get the kids involved, they are also adorable and allow the newly married couple to insert a bit of their own personality and flare into the cake to make the big occasion even more special.
A huge bonus is that there are essentially an endless amount of styles and designs you can make when hand painting so whether you want something a bit more feminien and elegant or a design that surrounds the entire cake and makes it as jaw dropping as possible, you get so much choice here that it always an easy design choice worth considering.
9) Peach And Gold Lace Detail Cake
Warm, inviting and a blend of colours that are guaranteed to mix perfectly every time, the mixture of peach and gold makes an almost beige colour that is the perfect choice when you're stressing about every last detail of a cake and don't know what will be guaranteed to please everyone at once.
Rest assured that this easy and scrumptious cake choice with some laced decor surrounding it tastes as beautiful and vibrant as it looks.
10) Calligraphy Wedding Cake
For that added personal touch that really makes the big occasion that much more meaningful and special, there's nothing quite like a wedding cake with calligraphy carved into it whether it's a few heartwarming symbols or simply the name of the bride and groom with a romantic love heart surrounding them.
A fun way you can make this cake that some wedding couples have started trying out is actually asking the close friends and family members to apply the calligraphy themselves so that when it's time for the newly wedded couple to carve a slice, they get a nice heartwarming surprise to start off the celebrations in fashion.
11) Funfetti And Sprinkle Wedding Cake
If you want a cake that screams fun, excitement and is bursting with personality, a funfetti or sprinkle cake makes use of various types of sprinkles on both the inside of the cake and drizzled over the outside to add a tremendous amount of colour while giving it a slightly crunchier taste that even the kids are sure to enjoy every bite of.
This is a cake that the couple and every guest in attendance will be drooling over as soon as they first lay their eyes on it.
12) Naked Ombre Wedding Cake
Ombre means 'shading' in French, and when it comes to cakes it refers to the gradual blending of one colour into another that usually will move from the lighter shades to the darker ones.
There are so many ways you can style an ombre cake, whether you want a light and warm peachy top that slowly blends into a much richer and more potent blue at the bottom or a clear beige colour that slowly fades into a creamy dark chocolate texture and flavour, the style and design of these cakes is entirely up to you.
The added decorations can also add just a little more of a personal touch to these already delightful looking cakes such as a few flowers or a couple of pieces of colourful and vibrant fruit resting on the top, choose whatever additions you feel will fit your preferences the best.
Summary
Designing a wedding cake can be stressful when you need to plan out the exact colour, taste and decorations all in one go, however it doesn't have to be.
Try using some of these simple and exciting wedding cake ideas as a template to make it much easier to prepare a cake that you can be sure you and your guests will remember for a long time. (As a side-note, if you love baking and you've created a masterpiece of a wedding cake, why not extend and setup your own cake-baking small business? )
Whichever style of cake you choose, it'll be stunning and you can be sure that the wedding cake will provide a real centre-point for the celebrations after your ceremony. Save a slice for us!